INTRO
---
It's a table clock, Jim, but not as we know it!
It's nothing new to see one of L'Epée 1839's high-end, Swiss-made timepieces flying over the Atlantic at twice the speed of sound: L'Epée 1839's beautifully-crafted wall clocks were chosen to furnish Concorde cabins when the supersonic aircraft entered commercial service in 1976. Unfortunately Concorde is no more. However, thanks to the aero-horological design team at MB&F, there is now another supersonically-themed L'Epée 1839 clock, which will not only traverse the stratosphere, but explore deep space and beyond: Starfleet Machine!
THE STORY
---
L'Epée 1839 + MB&F: It is such a great partnership to celebrate L'Epée 1839's 175th anniversary and the Launch of its new Creative Art Line.
In the image of Star Trek's Captain James T. Kirk, one of his childhood heroes, Maximilian Büsser set out to explore strange new (horological) worlds when he developed the concept for Starfleet Machine with ECAL design graduate Xin Wang. Büsser says: "We looked at one of L'Epée 1839's stunning, high-end clock movements and thought 'Mmm, we could do something with that', by giving it an MB&F twist. So we worked long and hard on a design that L'Epée 1839 has now brilliantly turned into a reality."
Next to even contemporary table clocks, Starfleet Machine stands out like a Vulcan at a terrestrial dinner party... Suffice to say this is the first creation bearing the distinguished L'Epée name to feature cosmically sleek, domed indicators and laser-cannon retrograde seconds. The central hour and minutes dome bears MB&F's signature numerals, while the bars on the power reserve indicator are framed by the dome's supporting dark, hand-finished arc. As the massive 40 days of power runs down, the dome slowly rotates 270°, and rotates back the other way when the clock is wound up. The accompanying radar dish rotates at the same speed as the power reserve indicator.
When conceiving Starfleet Machine, MB&F founder Maximilian Büsser set out to boldly go where no clock designer had gone before, and L'Epée 1839 has enthusiastically enjoyed the ride. CEO Arnaud Nicolas says: "MB&F's idea for Starfleet Machine blew my mind. Like Max, I am a big sci-fi fan so when MB&F came to us with the design, we had to accept the challenge. Our team has been really inspired by this piece, and we think others will be too."
Any questions ?Contact us
INSIGHTS
---
Hours and minutes are indicated on the central black dome by hand-polished hands that follow the dome's curved contours. Behind that, a smaller rotating dome, accompanied by a revolving radar dish, provides an intuitive view of remaining energy: five bars indicates the movement is fully wound (40 days of power); one bar means Starfleet Machine is running low on propellant (eight days of remaining power) – it's all relative – most table clocks have a maximum power reserve of only eight days.
Below 12 o'clock on the central hour-minute dome are the double retrograde seconds in the form of turret-mounted laser cannons. The cannons start in parallel and cross over one another before rapidly flying out again, an action marking off 20-second intervals. The red-tipped cannons provide eye-catching visual animation, and perhaps just as importantly, fend off enemy attacks against the core of the craft just underneath: the regulator, which has deliberately been placed in full view for all to admire.
One of the biggest challenges for L'Epée was respecting the movement configuration required by MB&F's spacecraft design. L'Epée's calibre – featuring five main spring barrels (in series for optimal performance) – usually equips vertically standing clocks, but here it is laid flat. The escapement platform also had to be set horizontally to be protected by the turret-mounted laser cannons. Naturally, the movement beats with a precision that Starfleet would be proud of, for an impressive accuracy of -2 to +2 minutes over 40 days!
Every component (except the 48 jewels) of the superlatively finished palladium-treated brass movement is designed and manufactured at L'Epée 1839 's Swiss atelier. The gears and mainspring barrels are on full display thanks to the skeletonised mainplate and concentric C-shaped external structure in stainless steel. Starfleet Machine can rest on both ends of its vertical landing gear; useful for when you turn it over to wind the mainspring and set the time.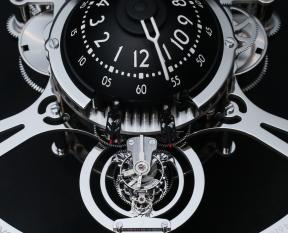 Time display & escapement
Superlative finishing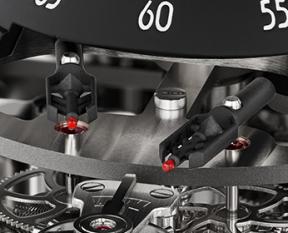 Double retrograde seconds - Laser cannons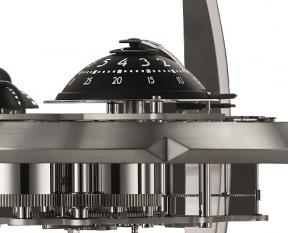 Power reserve indicator - 40 days
SPECIFICATIONS
EXCLUSIVE LIMITED EDITION
Starfleet Machine is limited to 175 pieces and is available in 'light', 'dark' editions.
DESIGN & DISPLAY
Hours and minutes: Curved, hand-polished hands rotate to indicating hours and minutes on a polished, central dome. The dome features MB&F's signature numerals.
Retrograde seconds: 20-second intervals indicated by double retrograde fly-out cannons emanating from central dome.
Power reserve indicator: a dome indicator, framed by a hand finished arc, provides an intuitive view of remaining energy as it turns 270°: 5 bars, 4 bars, 3 bars, 2 bars, 1 bar (1 bar = 8 days). Complemented by a 'radar dish' that also revolves 270°.
DIMENSIONS
Height: approx. 21cm
Diameter: approx. 29cm
MOVEMENT
L'EPÉE 1839 in-house designed and manufactured movement
Balance frequency: 18,000 vph / 2.5Hz
Barrels: 5 in series
Incabloc shock protection system
Power reserve: 40 days
MATERIALS & FINISHING
'Light' version:
Mechanism and main plate in palladium-treated brass
'Dark' version:
Mechanism in palladium-treated brass
Main plate in ruthenium-treated brass
'Chocolate' version:
Mechanism and main plate in brass Chocolate-color PVD Coated
Côtes de Genève, anglage, polishing, sand-blasting, circular and vertical satin finishing
FEATURES
Manual-winding: double-depth square socket key sets time and winds movement
Retrograde seconds: Double retrograde seconds in the form of turret-mounted laser cannons.
Power reserve indicator: a dome indicator, framed by a hand finished arc, provides an intuitive view of remaining energy as it turns 300°.
Free Option : Starfleet Machine comes with its own glass dome, fitting over the top.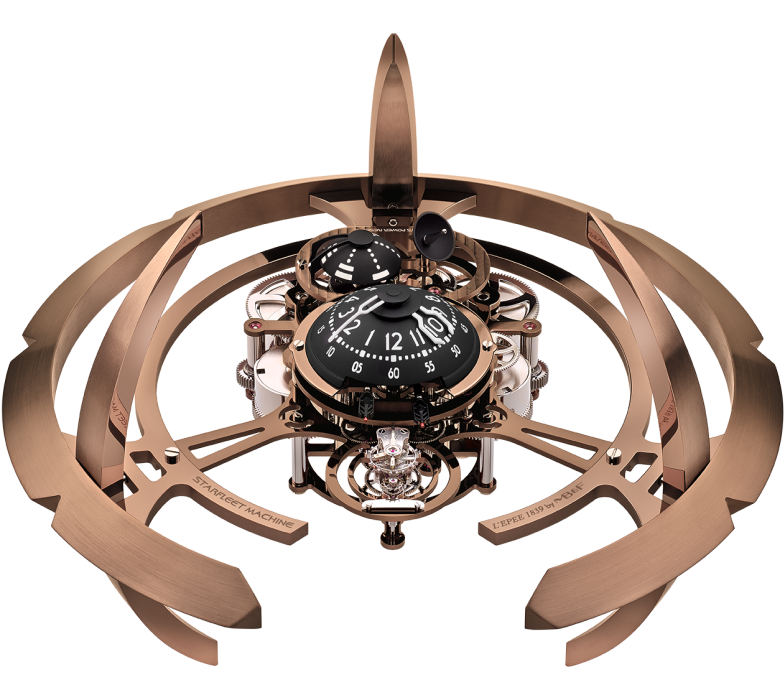 Reference
50.6801/301
Chocolate color
AVAILABLE Add to cart

30'870 CHF / excl. VAT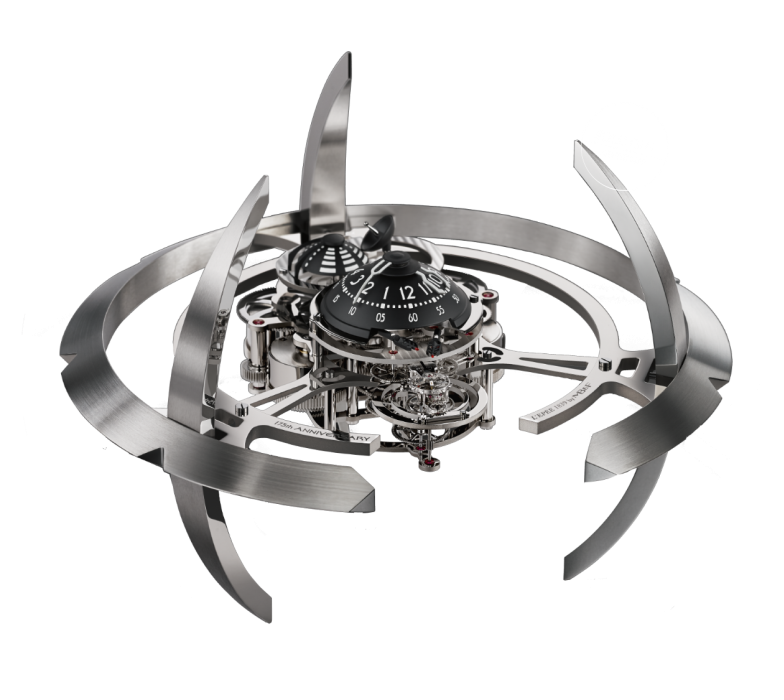 Reference
50.6801/101
Palladium - Limited edition of 175 pieces
SOLD OUT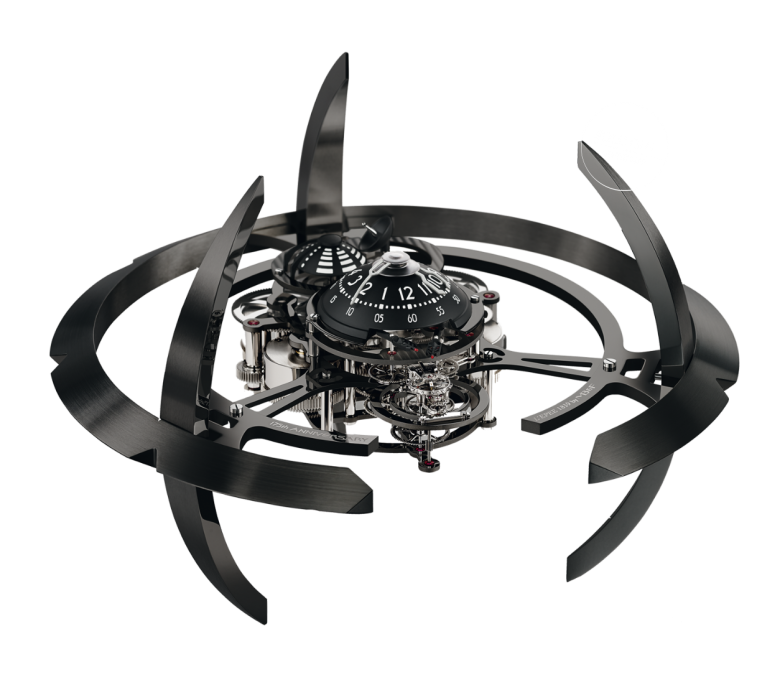 Reference
50.6801/201
Black Rutenium - Limited edition of 175 pieces
SOLD OUT