OVALE TOURBILLON FOUR QUARTERS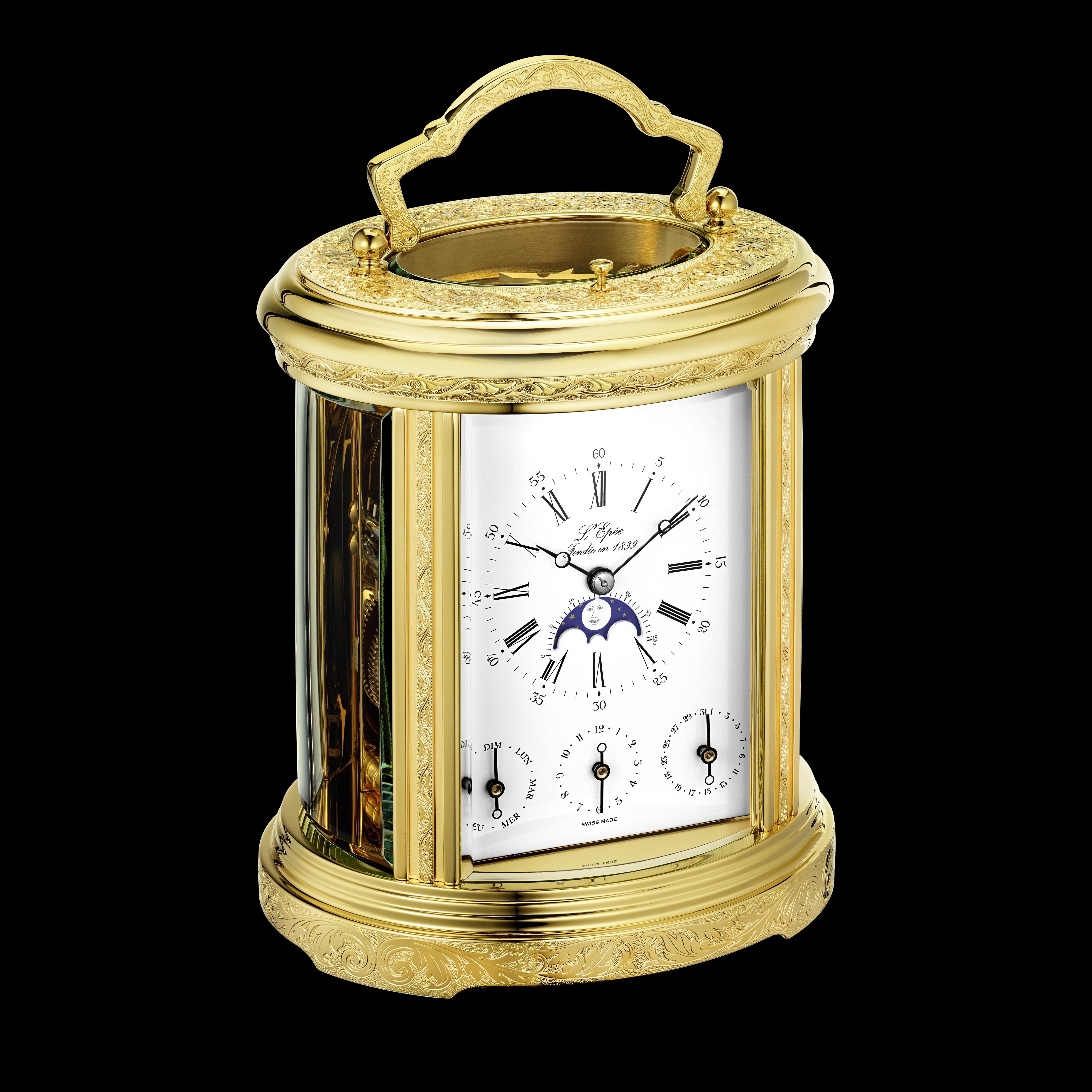 INTRO
---
To mark the 180th anniversary of L'Epée 1839, the Manufacture unveils a traditional clock, a one-off piece, in honor of its heritage as a great manufacturer of officers' carriage clocks.
 
THE STORY
---
Carriage clocks are also known in France as "Officer's clocks" and the name is based on an historical anecdote. It is said that Napoleon, having almost lost a major battle because one of his officers was late, ordered his military chiefs to carry a carriage clock with them at all times. Orders placed with master clockmakers always included the reference "a clock for an officer" and this brought the name into common parlance.
As well as a central hours and minutes display, this clock from the Ovale collection possesses numerous complications: tourbillon, moon phase, alarm, calendar (Day and Month), and even strikes the quarter-hours!

To further enhance this exceptional piece, L'Epée 1839 commissioned the hand-engraving of the entire case. Two types of engraving (in positive and negative relief) are combined to form an abstract pattern that decorates the whole case with style.
For nearly two centuries, L'Epée 1839 has been creating mechanical clocks, many of which have been given as gifts to the great names of this world. Many well-known personalities have given and/or received the gift of an officer's carriage clock made by L'Epée 1839.
Any questions ?Contact us
INSIGHTS
---
This unique piece displays the hours and minutes on a white enamel dial. The two hands reproduce the shapes historically used for officers' carriage clocks. The moon phase display, at six o'clock, presents the lunar cycles. The day and month displays and the alarm function are located on the lower part of the case front.
The ringing of the alarm is controlled by a dedicated barrel enabling the alarm to be regulated as desired. It produces its own characteristic, powerful tone.
The tourbillon crowned with swords can be admired through a glass window revealing the impressive width of the balance wheel and its characteristic rhythm of 2.5 Hz, or 18,000 vibrations per hour.
The clock has a power reserve of 8 days, and is endowed with the special feature of striking the quarter-hours. The double gong (with independent spring barrel) strikes the hours with one gong stroke, the first quarter with a double stroke, the half hour with two double strokes and the last quarter with three double strokes. An on/off selector is located on the top of the clock, so that the strikes can be silenced as desired. A single key is used to set the time and wind the spring barrels, which are accessed by opening the glass door in the back of the clock.
The Ovale Tourbillon Four Quarters is a unique gilded piece made up of 433 parts, supplied in a traditional leather case with a window, as was usual for the era, enabling the time to be read while traveling.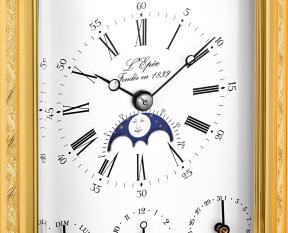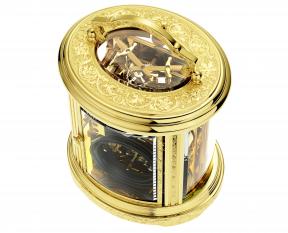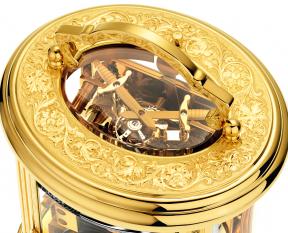 SPECIFICATIONS
Unique piece
DESIGN & DISPLAY
Hour/Minute
Alarm
Day/Month
Moon phase
Tourbillon
Striking mechanism: hour (1 stroke/1 o'clock; 4 o'clock = 4 strokes), quarter hour (double stroke), half hour (double stroke x2) last quarter (double stroke x3)
Striking mechanism: On/off
DIMENSIONS & WEIGHT
H14cm x L12.9cm x W10.8 cm
2.9 kgs
MOVEMENT
L'Epée 1839 1881 in-house caliber
Power reserve 8 days
MATERIALS & FINISHING
Gilded brass (thickness 3 microns) and mineral glass
Gold plated movement and housing
Polishing, sand-blasting, satin finishing
White enamel dial with traditional black hands
Special hand-engraving by an artist over the entire case
FEATURES
Manual winding with double ended key
special features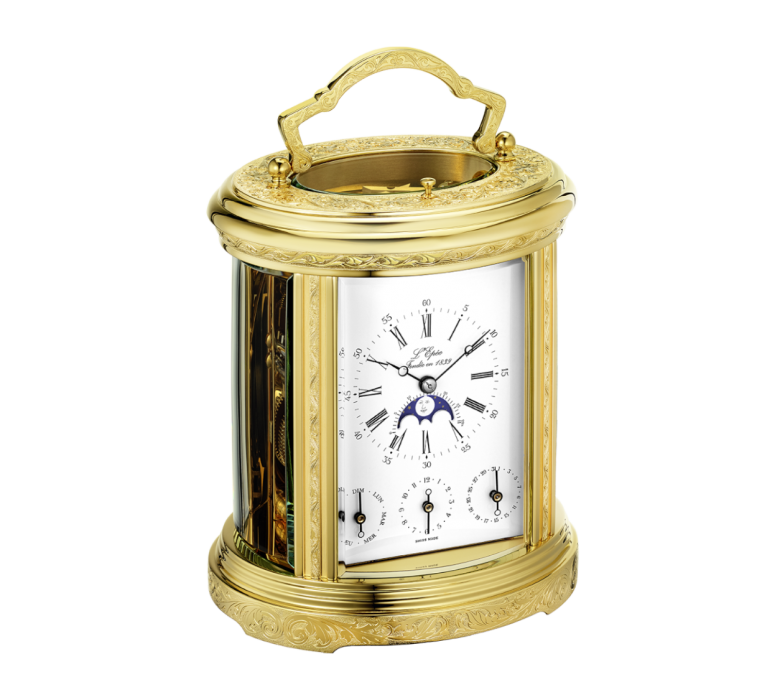 Reference
64.6143/901
TOURBILLON FOUR QUARTERS - Unique piece