BAD SHERMAN
INTRO
---
L'Epée 1839 + MB&F + Watch Anish
Bad Sherman comes with a dapper removable hat for doffing to the ladies. A pair of sunglasses so you can't see what he's thinking while he plays high stakes poker in Monte Carlo, and a handgun that doubles as the clock-winder. He's a timepiece that packs a piece, just in case.
THE STORY
---
You know who we like? Who's a real mensch? Sherman developed in partnership with MB&F. He's a decent kinda fella, affable, reliable, like clockwork. You could trust him to be polite to your mother in law, or water your plants while you're on vacation. He's an all round good guy. You can take him anywhere, well, anywhere respectable.

But there are places you wouldn't take him. Places that might shock him. Places like Vegas, or Bangkok, or all night shooting ranges in Kyrgyzstan where they'll let you blow up a 1994 Honda Accord using a Soviet grenade launcher. Those kind of places are not for Sherman, which is a damn shame, because Anish loves those kind of places.

Luckily though, the guys at l'Epée 1839 and MB&F realized that we all need a little devil on our shoulder. It's a ying and yang thing. So they kindly made a mechanical buddy for WatchAnish.

Bad Sherman isn't just a misunderstood kid who got mixed up with the wrong crowd. He is the wrong crowd.
He's the guy who always knows a guy. Whether you're in Tijuana dive bars or Tokyo high rises, he can make things happen. Which is probably why him and Anish get on so well.
Any questions ?Contact us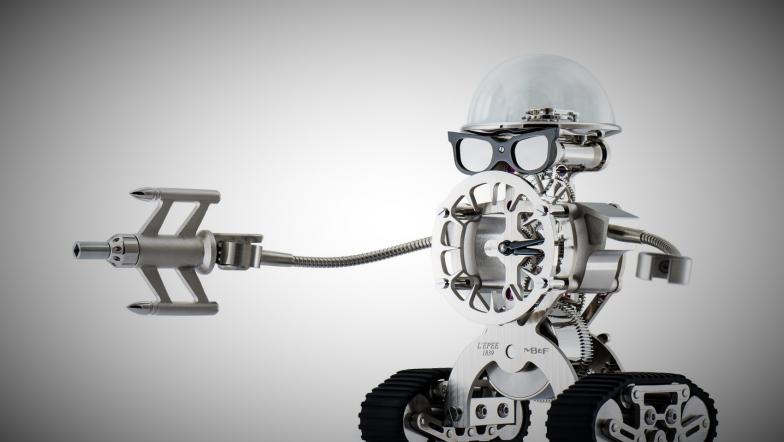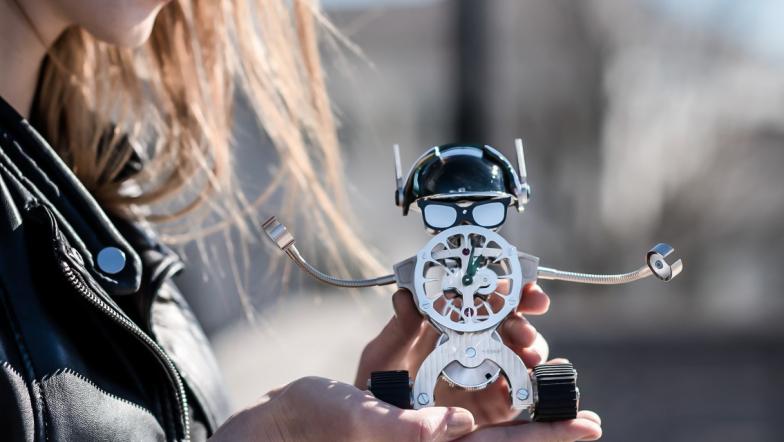 INSIGHTS
---
Sherman's mechanics are based on a L'Epée in-line eight-day movement, which ensures that the friendly tank-treaded table clock can display the correct time for more than a week before rewinding.
The clock regulator's gentle beating and intricate composition are made visible thanks to its polished glass dome cover. If the protective dome acts like a skull, then the regulator symbolises Sherman's brain at work.
His rubber caterpillar tracks are fully functional and, with a little help from a friend, he can roll over the rugged terrain of a typical office desk.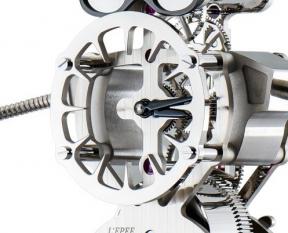 Time display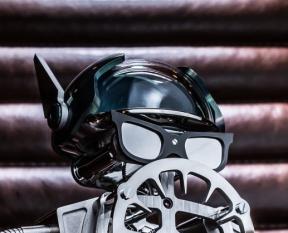 Bad Sherman's Helmet and sunglasses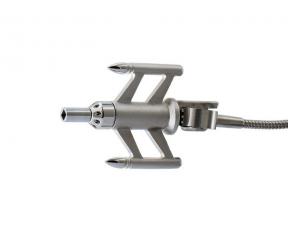 Bad Sherman's gun / winding key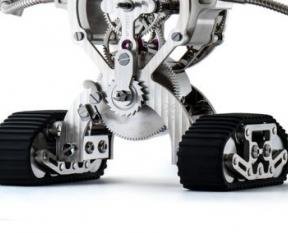 Bad Sherman's tracks
SPECIFICATIONS
EXCLUSIVE LIMITED EDITION
Bad Sherman is launched in three limited editions of 18 pieces per version, in silver, silver with black helmet, and silver with green helmet.
DESIGN & DISPLAY
Hours and minutes displayed on Bad Sherman's chest
DIMENSIONS & WEIGHT
143 mm tall x 109 mm wide x 80 mm deep
Weight: 0.9 kg
MOVEMENT
L'Epée in-house designed and manufactured in-line eight-day movement
Balance frequency: 2.5 Hz / 18,000 bph
Incabloc shock protection system
Power reserve: 8 days
MATERIALS & FINISHING
Palladium-plated silver color
Geneva waves, anglage, polishing, sandblasting, circular and vertical graining, satin finishing
FEATURES
Double-depth square socket key sets time and winds movement at back of clock. Key in a shape of a machine gun
Bad Sherman's arms can be manipulated into nearly any configuration, and his hands can be used to hold items like a pen or his winding key-gun
Reference
76.6001/141
Silver - Limited edition of 18 pieces
SOLD OUT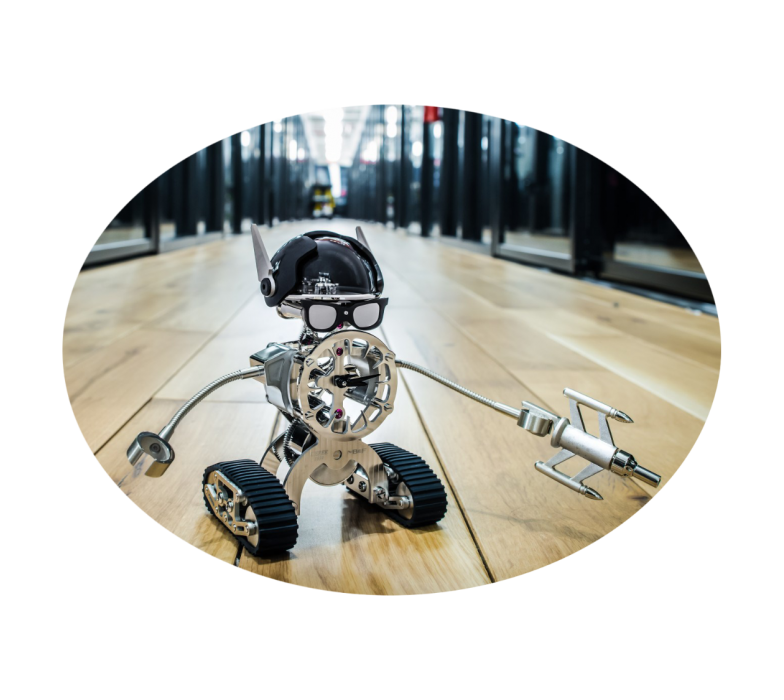 Reference
76.6001/121
Black - Limited edition of 18 pieces
SOLD OUT
Reference
76.6001/131
Green - Limited edition of 18 pieces
SOLD OUT