STARFLEET MACHINE BLACKBADGER
INTRO
---
'Performance Art' illuminated by smouldering rage
Creativity comes from a multitude of sources, but for 'Black Badger' founder James Thompson the fount of his creativity was rage – a rebellious fire was lit when he felt brushed aside as a student by what he perceived as an unfair administrative decision. Like MB&F, Thompson is an outsider doing his utmost to buck the system. And he is fighting his creative corner with the most unlikely of weapons: luminescent material. Thompson mills three-dimensional objects from solid light!
More than a decade on from a perceived injustice, Thompson's rage smoulders on in the form of vividly glowing lume. As he recounts, "It wasn't that I had tried and failed, it was being brushed aside like crumbs on a table. Here we are 12 years later and I'm still angry about it!"
For the Performance Art collection, Thompson has reinterpreted Starfleet Machine, MB&F's first table clock, which was created with L'Epée 1839.
While it may look like a model spaceship, Starfleet Machine Black Badger is actually a high precision clock with a 40-day power reserve that was created by L'Epée 1839 from a design by MB&F.
THE STORY
---
Black Badger lume and the composition and energy of light
While most watch enthusiasts are likely to be familiar with lume in the form of Super-LumiNova-enhanced hands and markers, that substance is quite different to the luminous material exclusive to Black Badger. While Super-LumiNova is a liquid that is applied to surfaces and dries, Black Badger's lume comes in solid blocks that are milled by hand or machine into the desired shape. Not only is Black Badger's lume extremely efficient at storing and releasing light, being solid means that there is usually more of it, so that it shines brighter for longer.
"White" light, which includes sunlight, is actually composed of red, green, and blue wavelengths of light. There are also other wavelengths of light outside our visible range, including infrared, a red that is just beyond visible, and ultraviolet, which is a blue that is just beyond visible. These different colours or frequencies of light contain varying levels of energy, with red/infrared at the lower end of the energy scale and blue/ultraviolet at the upper end.
When charging luminous material from white light, most of the energy comes from the more energetic ultraviolet end of the spectrum. But as ultraviolet is only a small fraction of white light source emitted by most torches and sunlight, only a small fraction of the power of the light source will actually charge the lume. An ultraviolet light, on the other hand, will charge lume much more quickly because it is all high-energy light, so more energy is absorbed by the lume more quickly.
This effect means that while normal white light sources will more easily charge the Black Badger Radar Green and Phantom Blue colours, an ultraviolet light is needed to charge the Purple Reign lume because it absorbs more energy.
Any questions ?Contact us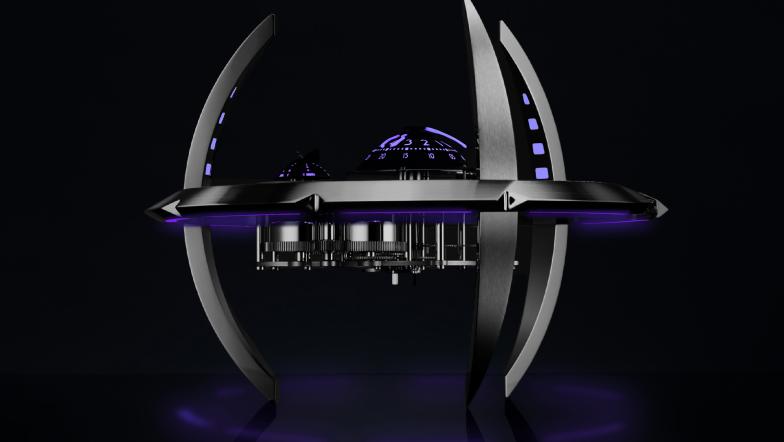 INSIGHTS
---
Hours and minutes are indicated on the central black dome by hand-polished hands that follow the dome's curved contours. Behind that, a smaller rotating dome, accompanied by a revolving radar dish, provides an intuitive view of remaining energy: five bars indicates the movement is fully wound (40 days of power); one bar means Starfleet Machine is running low on propellant (eight days of remaining power) – it's all relative – most table clocks have a maximum power reserve of only eight days.
Below 12 o'clock on the central hour-minute dome are the double retrograde seconds in the form of turret-mounted laser cannons. The cannons start in parallel and cross over one another before rapidly flying out again, an action marking off 20-second intervals. The red-tipped cannons provide eye-catching visual animation, and perhaps just as importantly, fend off enemy attacks against the core of the craft just underneath: the regulator, which has deliberately been placed in full view for all to admire.
One of the biggest challenges for L'Epée was respecting the movement configuration required by MB&F's spacecraft design. L'Epée's calibre – featuring five main spring barrels (in series for optimal performance) – usually equips vertically standing clocks, but here it is laid flat. The escapement platform also had to be set horizontally to be protected by the turret-mounted laser cannons. Naturally, the movement beats with a precision that Starfleet would be proud of, for an impressive accuracy of -2 to +2 minutes over 40 days!
Every component (except the 48 jewels) of the superlatively finished palladium-treated brass movement is designed and manufactured at L'Epée 1839 's Swiss atelier. The gears and mainspring barrels are on full display thanks to the skeletonised mainplate and concentric C-shaped external structure in stainless steel. Starfleet Machine can rest on both ends of its vertical landing gear; useful for when you turn it over to wind the mainspring and set the time.
For Starfleet Machine Black Badger, Thompson added his exclusive lume under the external ring running around the Starfleet Machine movement, to the inside of the spaceship's landing legs, and the indication domes and hands. The Black Badger touch ensures that Starfleet Machine looks just as good by night as it does by day.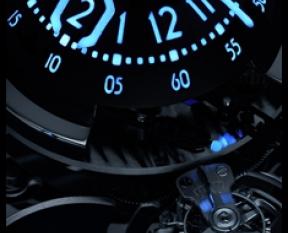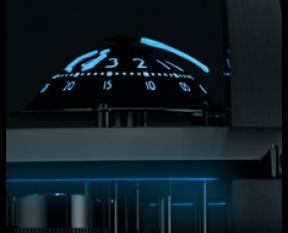 SPECIFICATIONS
EXCLUSIVE LIMITED EDITION
Limited edition of 3 x 18 pieces in palladium plated brass, with lume in Radar Green, Phantom Blue, or Purple Reign
DESIGN & DISPLAY
Hours and minutes: curved, hand-polished hands rotate to indicate hours and minutes on a polished, central dome. The lume-enhanced dome features MB&F's signature numerals
Retrograde seconds: 20-second intervals indicated by double retrograde fly-out cannons emanating from central dome
Power reserve indicator: a lume-enhanced dome indicator framed by a hand-finished arc provides an intuitive view of remaining energy as it turns 270°: 5 bars, 4 bars, 3 bars, 2 bars, 1 bar (1 bar = 8 days). Complemented by a 'radar dish' that also revolves 270°
Lume: the solid Black Badger luminescent material is on the underside of the external ring surrounding the whole structure, on the inside of the three legs supporting Starfleet Machine, and on the hour and minute hands and dome as well as the power reserve dome
DIMENSIONS
Height: approx. 21cm
Diameter: approx. 29cm
MOVEMENT
L'EPÉE 1839 in-house designed and manufactured movement
Balance frequency: 18,000 vph / 2.5Hz
Barrels: 5 in series
Incabloc shock protection system
Power reserve: 40 days
MATERIALS & FINISHING
Massive copper plated with Palladium
Côtes de Genève, anglage, polishing, sand-blasting, circular and vertical satin finishing
FEATURES
Manual-winding: double-depth square socket key sets time and winds movement
Retrograde seconds: Double retrograde seconds in the form of turret-mounted laser cannons.
Power reserve indicator: a dome indicator, framed by a hand finished arc, provides an intuitive view of remaining energy as it turns 300°.
Free Option : Starfleet Machine comes with its own glass dome, fitting over th
Reference
50.6801/400
Palladium-plated brass with blue luminescent details
Limited edition of 18 pieces
SOLD OUT
Reference
50.6801/401
Palladium-plated brass with green luminescent details
Limited edition of 18 pieces
SOLD OUT
Reference
50.6801/402
Palladium-plated brass with purple luminescent details
Limited edition of 18 pieces
SOLD OUT