SUN CLOCK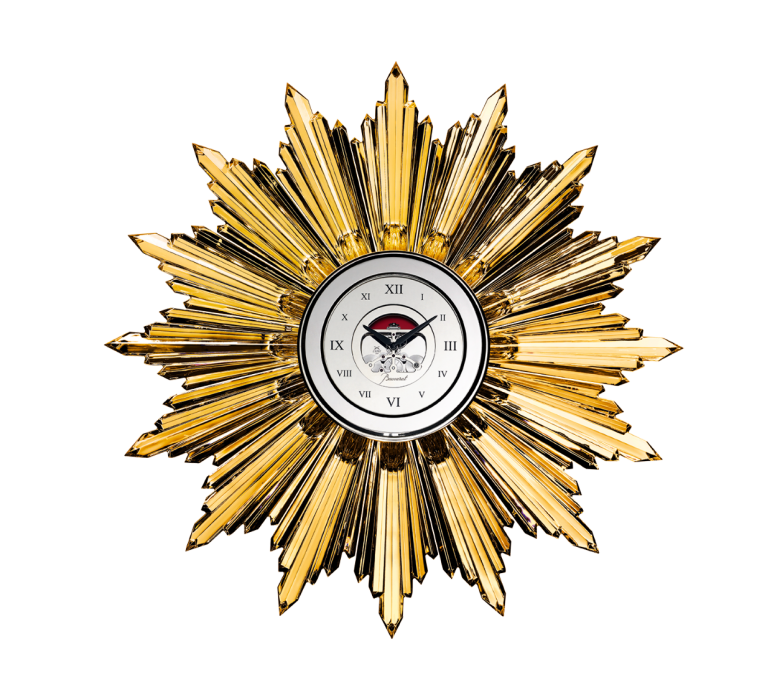 INTRO
---
BETWEEN LIGHT AND EXCELLENCE, WITH BACCARAT CRYSTAL
Sun clock takes us on an emotional journey between light and excellence, an invitation to discover the legend of crystal. Limited and numbered edition of 50 pieces.
THE STORY
---
The Sun clock, an impressive wall clock designed in 1948 by Georges Chevalier for Baccarat, re-issued in 2014 for the legendary manufacture 250th anniversary is seeing the light again today with its beams painted in 20K gold and with a L'Epée 1839 movement.
A solid crystal sunburst, whose sixteen pointed beams provide eye-catching effects of majesty and beauty, was inspired by the symbol of the Sun king, Louis XIV, and used on the gates of his palace at Versailles. A timeless piece perfect to light up every modern interior.
The dimensions of the clock are impressive: one meter of diameter (38 inches) and around 40 kgs (90 lbs) in weight. The highly visible, superlatively finished in-house movement boasts a power reserve of 25 days. Hours and minutes are indicated on the central skeleton movement by hand-manufactured and polished hands. Behind that, a full rotating gear wheels train allow the clock to keep track of time.
The regulator, which is deliberately placed on top for all to admire, and, as a king, to dominate everything, controls the precision of time. Every component (except for the 25 jewels) of the superlatively finished palladium-treated brass movement and housing is designed and manufactured at L'Epée's Swiss atelier. The gears and mainspring barrels are on full display thanks to a skeletonised main plate.
In its original version, the clock was displayed in the window of Baccarat first boutique in New York where it caught the eye of Arthur Miller who chose it to decorate the Manhattan apartment he shared with his wife, Marilyn Monroe.
Any questions ?Contact us
SPECIFICATIONS
The Sun Clock exists in two limited editions of 50 pieces in gold and silver versions.
DESIGN & DISPLAY
Hours and Minutes : displayed on hand-made hand-polished hands
DIMENSIONS & WEIGHT
Diameter: approx. 1 meter
Thickness : 7.5 cm
Weight : 40 kg
MOVEMENT
L'Epée 1839 in-house caliber
Balance wheel frequency: 18,000 A/h / 2.5 Hz
3 barrels series-mounted
Power reserve: 25 days
MATERIALS & FINISHING
Mechanism and main plate in palladium-treated brass
Polished palladium-plated brass dial
FEATURES
Double-ended key to set time and wind movement from the front