OVALE TOURBILLON CAROUSSEL
INTRO
---
The best of the best in the tradition of the watchmaking Art: 7 complications in a travel clock for this limited edition : A decorated gold-plated mask around a pure traditional white dial.
Both in England and in France from the middle of the 18th century, the gradual evolution of marine timekeepers (chronometers) could be regarded as a facet in the development of portable clocks designed for journeys. 
A BIT OF HISTORY
---
Carriage clocks are also known in France as "Officer's clocks" and the name is based on an historical anecdote. It is said that Napoleon, having almost lost a major battle because one of his officers was late, ordered his military chiefs to carry a carriage clock with them at all times. Orders placed with master clockmakers always included the reference "a clock for an officer" and this brought the name into common parlance.
All in one, this exceptional carriage clock introduces several complications, as well as a Carroussel Tourbillon. A traditional piece of art created by L'Epée 1839, who wishes to perpetuate the tradition and save its heritage.
Any questions ?Contact us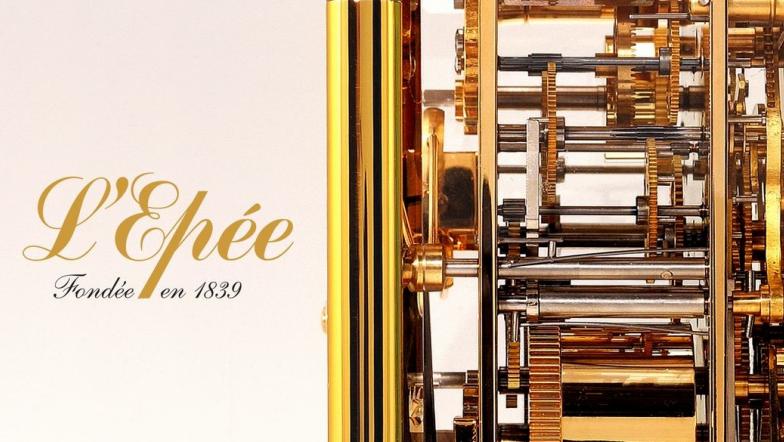 INSIGHTS
---
L'Epée 1839 has decided to return to one of the company's key areas of expertise that has made the company famous over the years by designing and developing one of the complications most sought-after by connoisseurs: a "Carrousel" type tourbillon. In this type of complication, the balance, the spring and the escapement are housed within a carriage of which the rotation axis coincides with the centre of the escapement and performs one complete turn per minute. This finely tuned carriage contains a poising weight and its rotation is driven by the barrel via a classic gear train.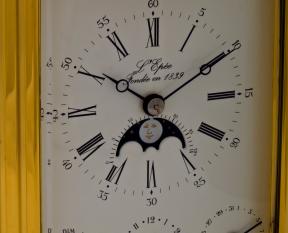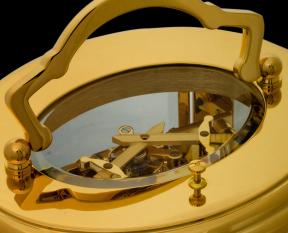 SPECIFICATIONS
This classic masterpiece is produced in Limited edition of 88 pieces
DESIGN & DISPLAY
Hours and Minutes
Tourbillon
Strike every Hour and 1/2 Hour
Repeat on demand
Alarm
Day
Date
Moonphase
DIMENSIONS
128 x 145 x 108 mm
MOVEMENT
L'Epée 1839 1881 in-house caliber
Power reserve 8 days
MATERIALS & FINISHING
Brass and gold Plated
Gold plated movement and housing
Polishing, sand-blasting, circular satin finishing
White enamel dial with traditional black hands
FEATURES
Manual winding with double ended key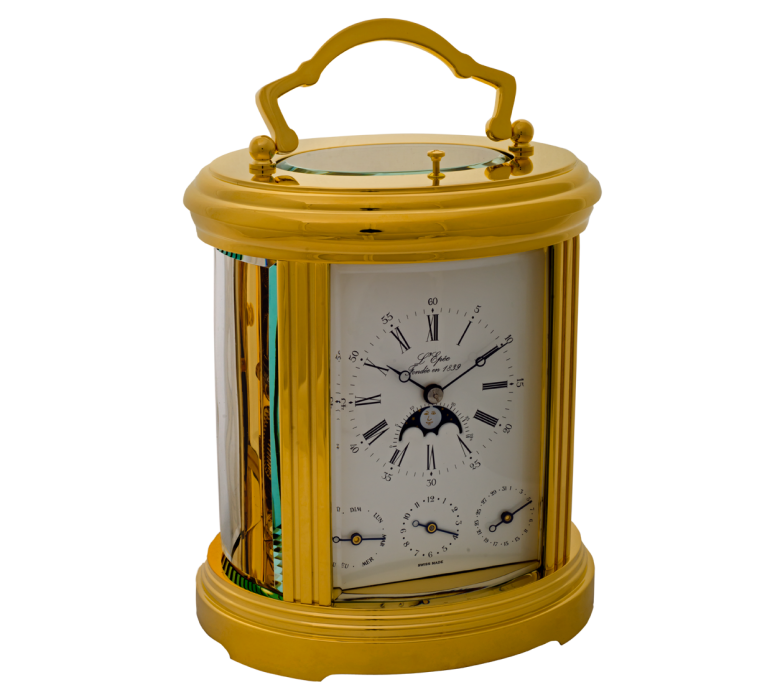 Reference
64.6142/001
TOURBILLON CAROUSSEL - Limited edition of 88 pieces
Inquire
27'562 CHF / excl. VAT